Devon & Exeter secure National Racketball title
19th May 2009
by Lee O'Donnell
The listing was posted by
England Squash - South West Area
The Devon and Exeter Squash and Racketball Club has won the Racketball National Club title at their first attempt by beating Cleaver Squash Club at the Park Squash Club in Nottingham last weekend.
The club were crowned National Champions after some superb wins in previous rounds against defending champions Thame, Chichester and Bishops Stortford before overcoming the Nuneaton based side.

In just 18 months since being introduced to the club, the meteoric rise of racketball has given the club an expanding internal league structure that has now led to the National Clubs title.
The side, which was sponsored by local company Island Sports is now looking forward to defending their title and maybe even venturing into the Europe as the English representatives this summer.
Club owner Adam Lings was overjoyed and commented "The boys have done brilliantly and they can all be very proud of their achievement".

Racketball is the UKs fastest growing racket sport and anyone interested in playing the game should contact their England Squash & Racketball Regional Office.
Full result:
Devon & Exeter SR&C bt Cleaver 5-0
James Snell bt James Bowden 3-1 (11/8 11/3 4/11 11/9)
Matt Baker bt Richard Woodroofe 3-0 (11/1 11/6 12/10)
Mike Gregory bt Paul Smith 3-0 (11/2 11/5 11/4)
Christian Turner bt Dave Clark 3-0 (11/2 11/3 11/2)
Adam Lings bt Paul Gibbs 3-1 (11/5 11/7 10/12 11/8)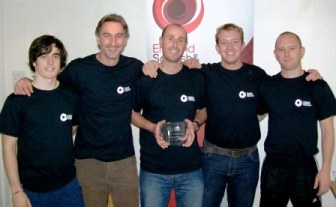 L to R James Snell, Mike Gregory, Matt Baker, Adam Lings, Christian Turner