Maiden Erlegh Girls show the way.
21st November 2010
by David Edwards
The listing was posted by
Berkshire County RFU - Schools

On Sunday 21st November 2010, the Berkshire RFU Girls U18 "cluster" team, the Berks BaBaas, played a local School side from Maiden Erlegh School at Reading RFC's ground in Sonning Lane. This was the first time a joint club versus school game had occurred and hopefully marks the beginning of a mutually valuable collaboration between the club and school.



The Club side won 48-0 in the end with tries from Holt, Belcher, Kerins(2), Parsons, Langford, Sarafian and Darvell. Four of the tries were converted by Moore. This doesn't do justice to the school team who defended well and were unlucky not to score from several promising moves. If they can get some match time to gain experience, they will quite quickly develop into a very different side. It was a great effort for one school to be able to field a full side and they created a lot of space and opportunities but their inexperience left them unable to capitalise on this. The Head of PE and two colleagues were there to support the girls and we are sure that the team will go onto great things.


David Edwards, Reading RFC and Berkshire RFU Girls, is currently leading the Berkshire Women & Girls Forum to assist in developing the womens and girls game in Berkshire. Working closely with our RFU Rugby Development Officer, Dan Whiteman, and Richard Major, the regional RFUW Development Manager, the Berkshire Sport team and the Berkshire Schools Union, they are able to assist any school who want to create a girls team.


The profile of Womens and Girls rugby in England is at an all time high following the success of the Womens RWC2010 this September. There is huge potential in girls' rugby for players to come to clubs from schools and we know that there are several hundred girls in Berkshire alone involved in some form of rugby in active schools programmes. The transition from school to club at this age is complex however, and for many of the girls there are competing activities from other sports at weekends.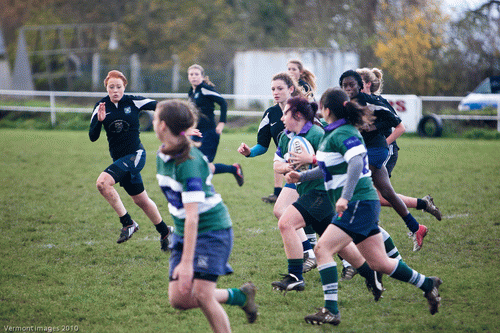 From this season the RFUW Girls Pathway has changed to fall in line with the boys process. This means that club and school players can trial for their county and then play other counties in selection matches to get into Divisional teams that play each other - from which an England side is selected. Currently Berkshire Girls at u15s and U18s are based across Reading RFC and Newbury RFC and details can be found on this website under County Youth.