England success for local Touch Rugby Club
1st March 2011
by Paul Farringdon
The listing was posted by
Berkshire County RFU - Clubs
A local Touch Rugby club- the Thames Valley Vikings are celebrating the selection of 11 of their players for the England National team for the upcoming Touch World Cup 2011 in Edinburgh this coming June.
Touch is a little known, but fast growing summer sport in the UK. The sport is loosely based on Rugby League but with teams of 6-a-side. However, with no tackling, the sport is all about running and passing. This allows men and women to play on the same teams, all the way to international level.
The Touch World Cup is the pinnacle of the game and 25 nations will be competing across a number of divisions (Men's, Mixed and Women's) and categories (Open, over 30's, over 35's and over 40's). The sport is traditionally Southern Hemisphere based and this is the first time that the World Cup has been hosted in Europe.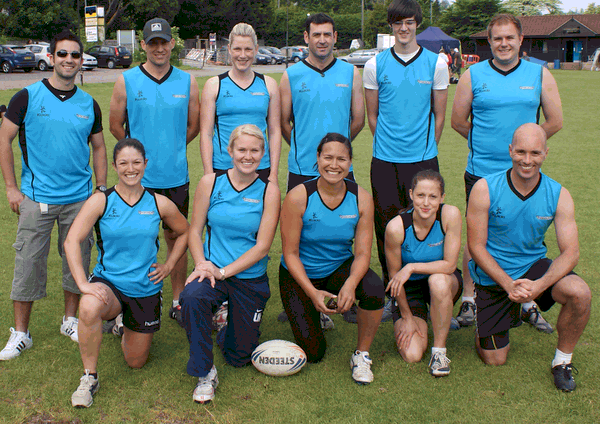 Vikings club players Dave Woolley, Lucas Lee, Perry Jansen, Samantha Phillips, Andre LeCornu, Paul Farrington, Will Ten Broeke, Ali Hogg, Zoe Warren, Kat Spring and Jenni Postlethwaite have been selected for a variety of squads and make up part of the 120 England players attending the event. They will be joined by Sue Farrington who will be a team manager. Andre Le Cornu, Dave Woolley and Samantha Phillips are celebrating selection for their second World Cup having played in South Africa in 2007.
This is a great success story for the Vikings, based at Berkshire County Sports, Sonning Lane, Sonning, which has only been formally running for 3 years having started as a group of keen friends. They are now a member club of Berkshire RFU, and play in the National Touch Series competition, the elite Touch competition in England, as well as a number of social Touch events throughout the summer.
The club is looking to grow in 2011, and Junior touch sessions will start, on Sunday mornings at the BCS grounds, alongside adult Touch sessions from 11am-1pm. This will allow the whole family to come along to play!
If you are interested in finding out more about Touch and how to join the Vikings, please email:
paul_farrington@sky.com
or visit the club website,

click here